Years ago my college Spanish teacher read this poem to the class. I thought it was really clever and funny. I re-typed it so please excuse the mistakes with the accents and punctuation, I am sure there are many. I hope you enjoy this. Merry Christmas!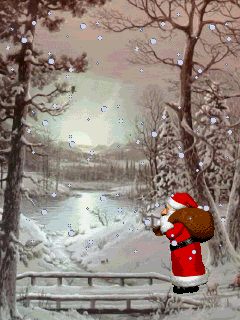 'Tis the night before Christmas, and all through the casa,
Not a creature is stirring ¡Caramba¡ ¿Qué pasa?
The stockings are hanging con mucho caidado
In hopes that San Nicolás will feel obligado,
To leave a few cosas aquí and allí,
Para Chico and Chica, (y something para mí)!
Los Niños are snuggled all safe in their camas,
Some in vestidios and some in pajamas,
Their little cabezas all full of good things,
They esperan que old Santa will brings,
Santa is down at the corner saloon,
Muy borracho since mid-afternoon,
Mama is sitting beside la ventana,
Shining her rolling pin para mañana,
When Santa will come in a manner extraña,
All lit-up, like the Star-Spangled Banner, cantando,
And Mama will send him to bed con los coches.
Merry Christmas to all, and to all Buenas Noches!